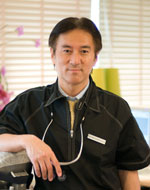 Dear Neighbor

There's no doubt you have heard about cosmetic dentistry,
and maybe you have thought about improving the appearance of your smile.
Perhaps you keep putting if off because you were unsure of where to go, or what options were available
now or even how long would it take to have a better smile.
Our office is equipped with the latest technology and offers a wide range of cosmetic dental treatment options, including,
bleaching, bonding, porcelain veneers, and all porcelain crowns.
We pride ourselves on our skill at enhancing the beauty of your smile, and we are committed to helping you achieve the smile you have always wanted.
If you need personalized dental care in a confortable, stress reducing, caring atmosphere, we invite you to visit our state of the art office for an introductory visit.
We would be please to discuss your dental care needs,
answer any possible questions that you may have, and inform you of the options now available.

Regards.

Cosmetic Dentistry includes bonding, veneering & Bleaching.
Gentle Air Polishing for Stained teeth And Sensitive gums
HALITOSIS (BAD BREATH) electronic Diagnosis and Treatment.
Dental Implants (Non Metalic AVAILABLE)
Teeth BLEACHING.
NITROUS OXIDE AVAILABLE
ORTHODONTICS
CROWN and BRIDGE, PARTIAL and Full Dentures
PLANNED EXTRACTIONS and immediate implants Possible.

Having an extensive background in this field allows us to replace missing teeth, small bridges and partial dentures with implant supported teeth, custom made to look as real as your naturel teeth.

"The application of art and science" We bond a water-thin shell of porcelain to the front of the tooth. Veneers are an excellent way to change the appearance of teeth that are discolored, chipped or misaligned.
We can restore a brilliant shining smile with this fast and simple process. Remove stains, yellowing and discoloration. White Fillings:
Say good-bye to those unsightly dark aray amalagam fillings. Our long lasting color matched fillings let you say hello with every smile.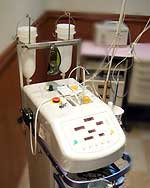 Gum Disease treated with Lasers. ( Need no injection in most cases )
Cold sensitive teeth can be made less sensitive with Laser treatment in many cases.
Fillings done with Lasers in some cases with No injections and Little or no Drilling.
Sterilization of Root canals with Lasers.
Lase Dentistry No shot, No Drills, No Pain in most cases.
Our office is now equipped with the Dental Laser.

it's a beam of highly concentrated light delivered in short pulses through a flexible optical fiber.

Laser uses laser-energized water droplets to gently and precisely remove both hard and soft tissures.

Many dental problems can be treated with dental Lasers, and the need for conventional instruments is lessened. However, the dental laser does not totally replace current instruments.

Most patients find laser procedures so comfortable that in many cases, no anesthetic is required.

Yes.

No irritating noise, Reduced Bleeding, Ongoing protection, Greater conservation of healthy tissue. Earlier interception of disease.
New Patients & Emergencies Welcom
Most Insurance & Credit Cards Accepted.
Evening & Saturday Appointment Available.
PhoneF03-3573-9330
Tsuneo Kawai, B.D.S., D.D.S.
OPEN
Mon. - Fri.
10:00 am - 1:00 pm
2:00 pm - 7:00 pm
Sat.
10:00 am - 1:00 pm
2:00 pm - 4:00 pm